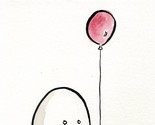 You think you've beaten childhood to an extent until you stumble across that devestated feeling (somewhat irrational) of having something you really quite like, break.
Work gave Geoff and I an engagement present today. The wrapping was an art form and the inside was this really, really, really nice white platter with a simple black plant design. The kind of thing I love.
So I cart it all the way home on the train and I'm getting out of my car, crossing the street when it falls out of the bottom of the box and smashes into sizable pieces the middle of the road.
The small bowl and two cheese knifes are still intact, the plate (the nicest bit) however is not, nor is my thumb (which I cut).
I haven't been disappointed like that a long time.
That popped balloon feeling.