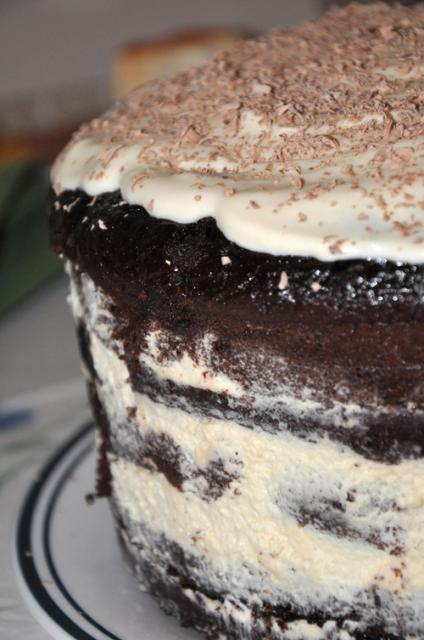 For Geoff's birthday I made a Tiramisu Cake – the recipe (and idea) was courtesy of our friend Mandy after her own mind bogglingly huge and delicious cake around Christmas time.
For this you'll need:
3 packets of chocolate cake mix (or you can make your own but really it is much easier and less time consuming if you do just go the packet). I used White Wings brand – usually pretty decent.
300mL-400mL Tia Maria
Chocolate for grating (or cocoa, choc-coated coffee beans etc)
Filling:
2 eggs
1/3 cup (75g caster sugar)
500g mascarpone
1 cup thick cream
1/2 cup  Tia Maria
Wrap the outside of a 23cm springform cake tin with plastic wrap of foil to avoid leaks from the base.
Slice the chocolate cake thinly and pour some of the 300mL (or more if needed) of Tia Maria in a shallow dish, ready for soaking the cake slices as you need them.
Filling: Before you start to layer the cakes, whisk the eggs and sugar until pale and then gently beat in the mascarpone and thick cream; Use an electric whisk for this. Gradually add the 125mL Tia Maria to make a creamy spreadable layer for the cake.
Using approx 1 cake per layer, dunk the slices in Tia Maria before lining the tin with them (Don't undersoak, and make sure you only put some of the Tia Maria in the dish at a time as the bottom layer will have all the TM in it otherwise and you will either run out, or end up having to use more than the recipe amount (which may not be bad)). Squash them down, pressing confidently as you go; each layer should not be too thick, but juicily compact and solid. (add on from

Mandy

– Don't be scared to really squish them as you will have trouble with fitting the last layer if you don't.)
Spread a third of the cream mixture over the soaked cake slices.
Repeat with another layer of soaked choc cake slices, then cream again.
Finish with a layer of choc cake slices – not as soaked as the first 2 layers – reserving the last third of the cream mixture for later in a covered bowl. (I just put a whole cake on the last layer, because I was lazy)
Press down the cake layer to make it as smooth as possible, then cover it with plastic wrap and put the cake in the fridge overnight (or for up to 4 days).
When you're ready to serve, take the cake out of the fridge, unmould, sit it on a plate or cake stand, then spread with the remaining final third of cream mixture, before dusting with cocoa and serving. The cake should be too damp to lift it off the tin's base, but ppl really won't care once they eat it.
You can also freeze after finishing with remaining cream. Freeze until solid then double wrap with plastic. Can be kept up to 3 mths. To use simply unwrap, place on serving plate and thaw overnight in the fridge.