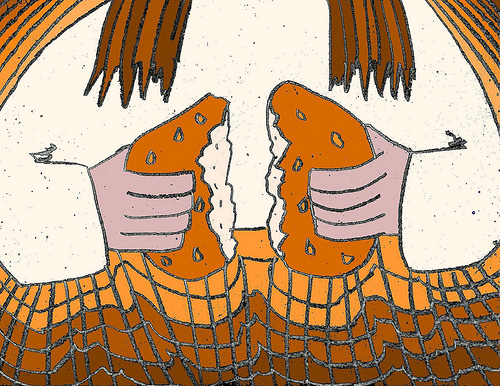 "Then Jesus declared, "I am the bread of life. He who comes to me will never go hungry, and he who believes in me will never be thirsty. But as I told you, you have seen me and still you do not believe. All that the Father gives me will come to me, and whoever comes to me I will never drive away. For I have come down from heaven not to do my will but to do the will of him who sent me. And this is the will of him who sent me, that I shall lose none of all that he has given me, but raise them up at the last day. For my Father's will is that everyone who looks to the Son and believes in him shall have eternal life, and I will raise him up at the last day."
Church up at Ranges today – it's Easter Sunday. There were a stack of stations set up for reflection. The one that grabbed me most was, quite oddly the station about Hunger. The Bible mentions hunger quite a bit. It is wound very tightly into humanity, we need food to physically survive and food for contentment.
Each image showed was of lips – a conceptual variety of those covered in glitter holding dice, eating paper and words, half painted red, a child feeding from it's mother.
It's so easy to satisfy hunger with stuff, with life with busyness, with wants and percieved needs. It is not easy to satisfy hunger of the other kind with Jesus. But it is better. And things seem right when the hungry goes searching for the holy. And because the holy can relate to us in our hunger, it makes it possible.