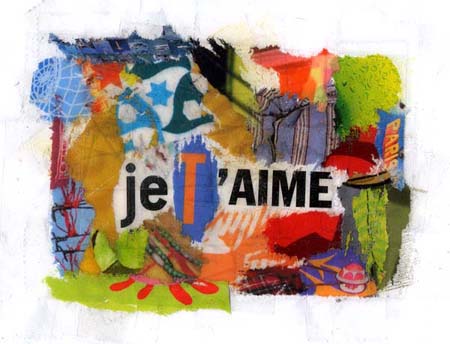 I am a sucker when it comes to French film. If you can choose to ignore their often slightly lewd slant (or at least moments) their utter absurdity throws you into this trance of… wow.
I love it.
They are creative, they are quirky, they are clever, they are beautiful, they are more real – despite being so weird. Much more real than Hollywood much less annoying than Bollywood. That is not meant to rhyme to sound catchy or tacky – why the 'wood' suffix anyway…?
I had the immense pleasure of seeing Paris, je t'aime (Paris, I love you) tonight. Jess, my movie obsessed friend again struck with her taste of brilliance and coerced us into making the trek into Camberwell to the Rivoli. It didn't take much persuasion. Fortunately my taste of foreign film is shared and appreciated by my fiance (Yes, I was just looking for an excuse to use that). He of course can speak much better French than I can… although he is more fluent in German. I know perhaps one word in French – maybe two. I can say something about the woman and the little girl and I can count but I'm never quite sure if I'm mixing it up with Italian. Neither of us really know French very well. Both of us would like to learn. There's something you might not know.
Regardless of whether we learn, he will always have the better accent.
As said this evening, whatever you say in French sounds beautiful – even if you swear. Whatever you say in German sounds like swearing – even if it is beautiful.
My severe anti-aural learning abilities haven't ever been all that assistive (Let's make up words) in learning languages. I can speak Solomon Islands Pijin – which is more than most could boast but it is obscure and not very helpful. Besides, I'm still not very good.
This movie however – like our German-French comparison, was utterly stunning.
The movie is an anthology – multiple directors. You walk away feeling like you've been at a short film festival. I've never actually been to one. I steal more lines than you might realise.
It's not about a set plot with beginning, middle, end. It's beginning, middle and end the whole way through, although sometimes you're not sure at quite where you're at. I like that. It says as much about life as the few engagement-rings of wisdom on love throughout do.