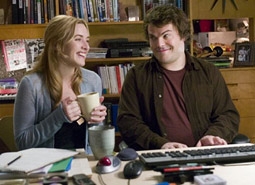 Right, so if you've been after a decent chick flick/feel good movie and you're capable of ignoring Cameron Diaz's pathetic attempt at acting, do go and see The Holiday. I happened to see it today (Actually Geoff was very nice and took me) I really quite enjoyed myself (bar some of the start where the acting was pretty mediocre). All up it makes for a very decent chick flick and I'd even consider owning it (NB: this is saying lots.) the soundtrack is commendable and the Kate Winslet side of the story is movie-believable and entertaining.
It's just one of those nice movies. And hey, if you want to play the superficial card, with Jack Black for humor and Jude Law for looks you can't go too far wrong!
In short, the movie is 'delightful' but Cameron Diaz is her usual ditzy annoying self.
and guys… if you are dreading the next girly movie you 'have to see' because she wants to see one – this really isn't too bad. Sure beats Legally Blonde.
It was good fun. I liked it.