There's 5% chance of having your baby on the due date and we've effectively done it twice. Hurrah! (This is a terribly satisfying thing for an Enneagram one). Aside from being timely, drug free and positive experiences - Céleste and Claire's births were quite different. You can read about Claire's birth here.
As far as pregnancies go, it was a fairly straightforward one with the exception of the same kind of frustrating/worrying/unexplained bleeding that I had with Claire. Which for an RH Negative blood group means lots of trips to the ER and LOTS of waiting to get anti-d shots. We clocked an 8hr wait one night – the joys of being low priority (fair but annoying). I did some insane things at the end of pregnancy – like shooting a wedding at 38 weeks, then moving house the following day. And then there was the running around after a (not very fast mind you) toddler paired with the absence of the hyper-research that comes with baby one, which meant I didn't really get my head into gear very well until right near the end:  Oh that's right… we're having a baby. I think I lived in denial for a few weeks and avoided packing a hospital bag, I was excited of course, but there just wasn't space for the effort to make the effort.
The week prior to Céleste arriving I had two lots of pre/false labour, however with the wisdom of a terribly long labour behind me I went to sleep both times and nothing came of it. Then Tuesday night it was on. Apparently. Enough for Geoff to let work know he wouldn't be in and enough to call my parents at 1.30am to take one very excited toddler. Claire was super cluey and knew that I was 'going to the hospital' when we told her she had to go with Opa in the middle of the night. Nice to know that things sink in. So there it was, reasonable (eg. painful) labour all night from 8.30pm. I did my best to time contractions and also nap (that wasn't very successful) then 5am hit and it all stopped. Completely. Zip. Nothing. Crazy frustrating. I called my midwife sister and she told me to sleep, wise, so I did.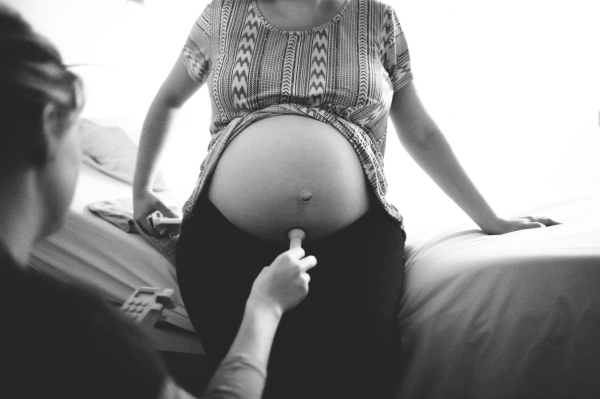 We went in to the hospital (Mercy Family Birth Centre) early afternoon for a check and a stretch and sweep. Geoff in his wisdom suggested we put all the bags in the car. Things had progressed (4cm – hallelujah, not all in vain!) so they did a stretch and sweep (which is totally not bad by the way if your body is ready for it!) they told us to keep local and walk the streets of Heidelberg to try and get things going.
So we did.
It was an absolutely beautiful afternoon – we stopped for a 'coffee' in the middle of labour (that was a bit weird). Walked up and down the main street, had a look in the fancy pants supermarket and found a big lot of stairs to walk up and down and up and down again. It was all rather strange and mostly nice (besides the uh. pain factor). Kind of like the weirdest date ever.
At 5pm we decided to head back in and were admitted. We messaged Amy – who was going to photograph the birth (serendipitously yet again managed to arrange that in the last week) and let her know it was on.
I love TENS machines. I was using one all through the night and day and I cannot recommend them highly enough.
Active labour this time was quite different. I was not in the zone and was lucid enough to be having conversations with Geoff, Amy and our midwife Robyn while stopping mid sentence for contractions, then back to the conversation – turns out Amy knew Robyn (small world!) which was rather lovely. The baby's heart rate was a bit all over the shop so I had wireless monitors on me for most of it, which wasn't too much of a hinderance. Towards the end I abandoned the TENS and got in the shower (hello tune out world/transition) and that truely lovely part of labour when you so badly want everything to be over. With such a long previous labour, I remember being slightly mortified thinking that it might go on for a whole lot longer, it felt too quick for it to be so intense at that point.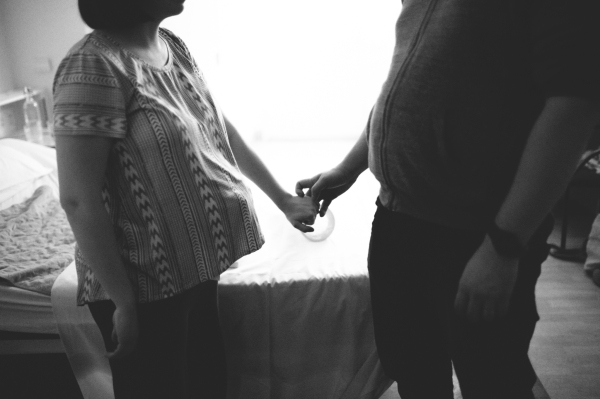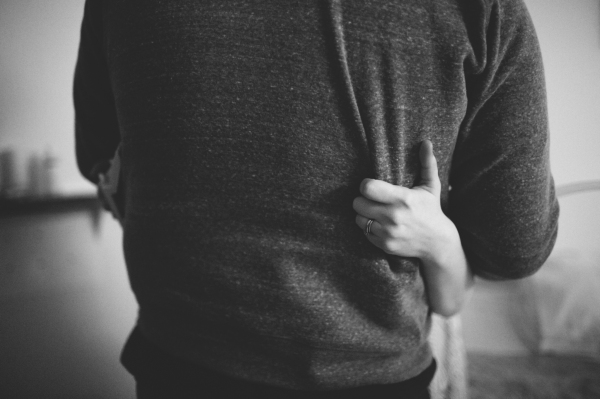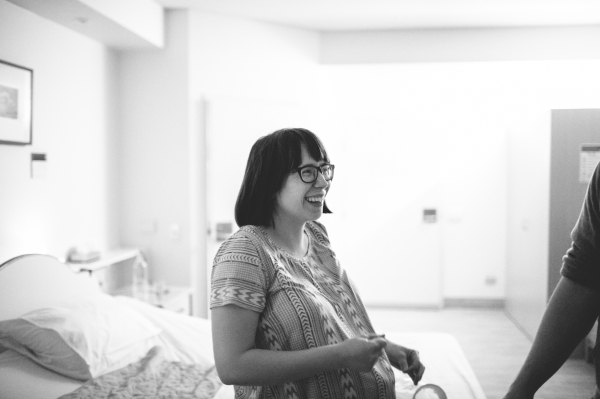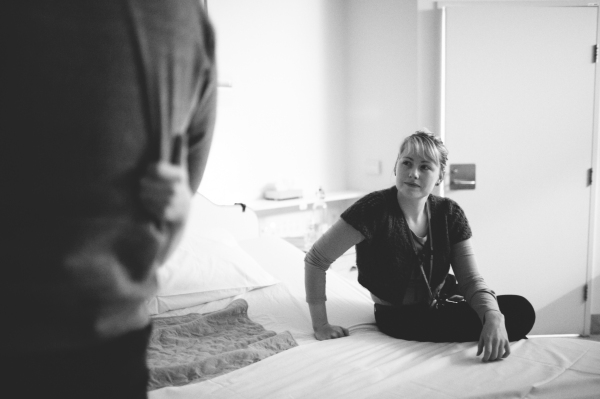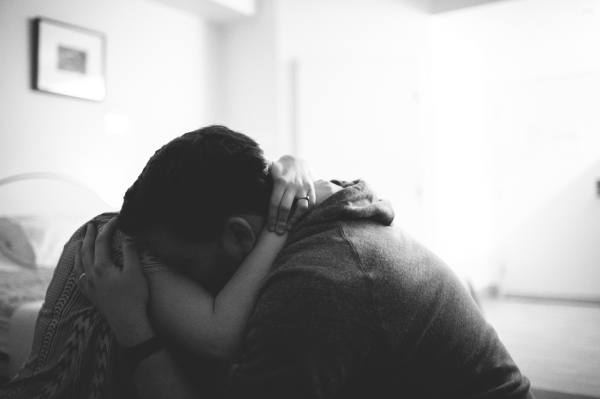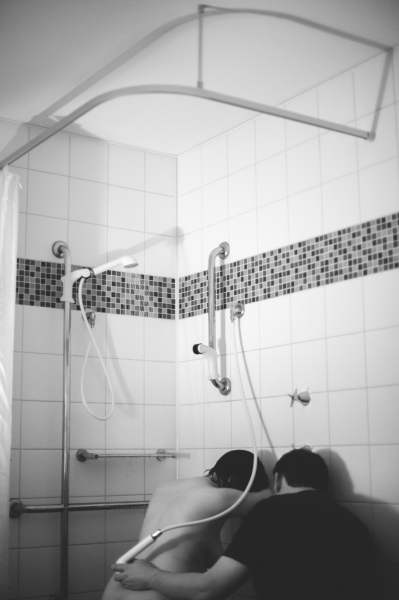 Motivation in labour is a great thing, not knowing the sex is good for this, another great one is being told your baby's heart rate (previously up quite high near the 150's/60's) has dropped to 60 – it did concern me at the time (as much as I could process in that blurry state) but I didn't feel terribly anxious about it (I probably should have been) – still, it is great motivation. Robyn told me flat that it was time to get this baby out, so out of the shower on to the bed (Because they had to check things properly) and after four minutes of pushing she was out. She came out mostly in the caul, and she was completely fine.
It's an indescribable feeling holding your baby for the first time.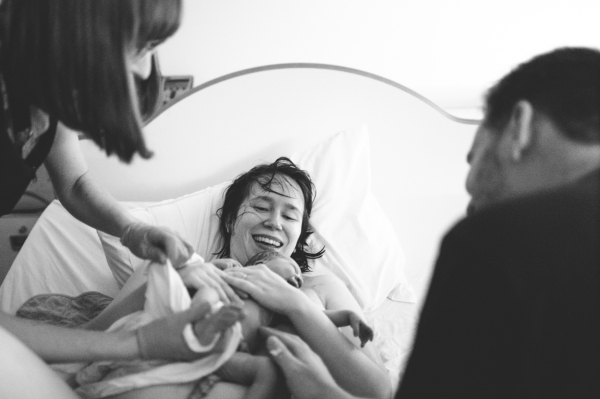 I'm terrible at guessing the sex of babies – I get it wrong every time and think that the 'gut' feeling that mothers get re. boy or girl might be a load of bollocks (or I'm not blessed with this divine intuition) because I was mostly convinced I was having a boy during labour.
This is Céleste Emilia. 8.39pm. 3.16kg and 51cm long. I love her. I love my family.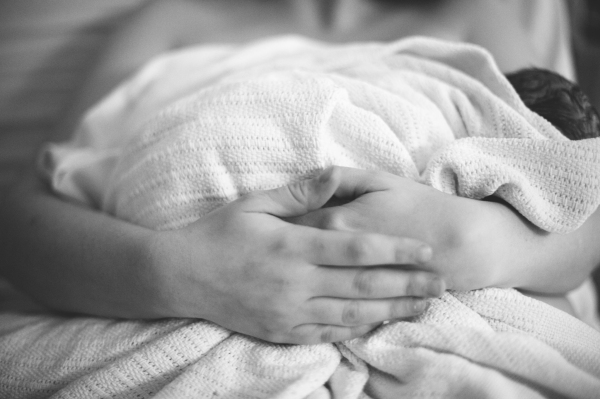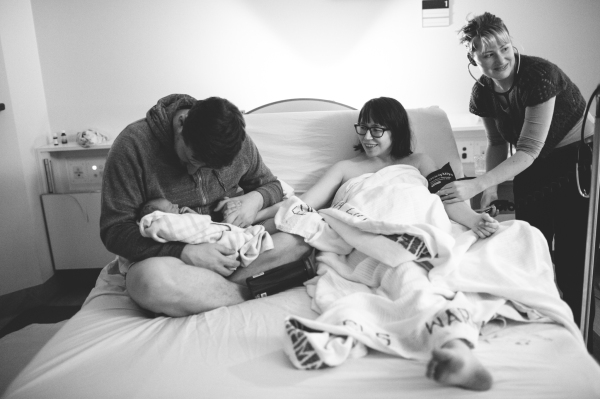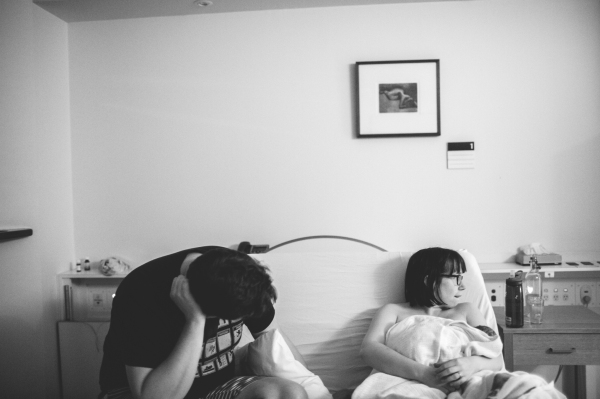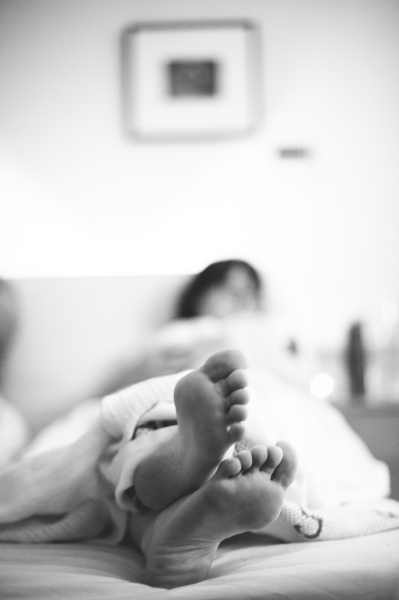 We came home from hospital 16hrs after giving birth.
Baby number two is different. You don't really over-stress about certain things as it's all much less new. There are other challenges (beside the horrid tiredness)- like dealing with kid 1. I'd been putting a lot of work into this, with books and youtube clips of two year olds meeting their siblings and general emotional intelligence which has seemed to pay off. Claire and Céleste's first meeting was truly lovely. Claire did spend the rest of the day refusing to say her name and in denial about anything baby – but by a week in Claire is now hugging her and asking what 'Leste is doing.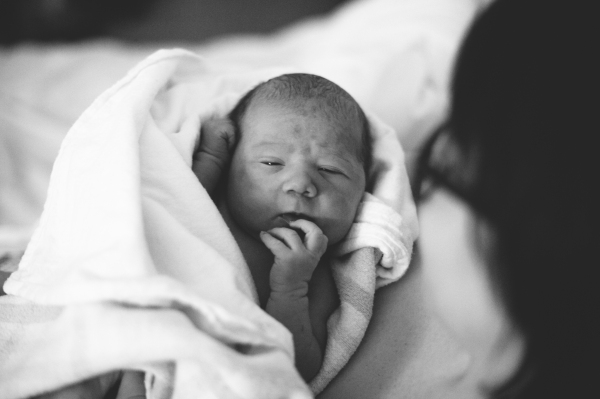 Some of my favourite moments have been observing Claire's response to everything. She watches Geoff take care of me. And when I've been complaining about after pains (no one tells you how much they FREAKING hurt with baby 2) she's asked, "What do you need?" and taken the initiative to get me a heat pack, "Here mummy have this" (?!). She's picked out certain books to read such as John Brown, Rose and the Midnight Cat very intentionally (after weeks of being stuck reading Maisy books) – which gives some incredible insight into how she's been feeling about her routine being disrupted and the introduction of someone new into a comfortable life.
Tonight we were talking about who her friends were and Claire comes out with, "Celeste is my best friend in (the) whole world."
It's good.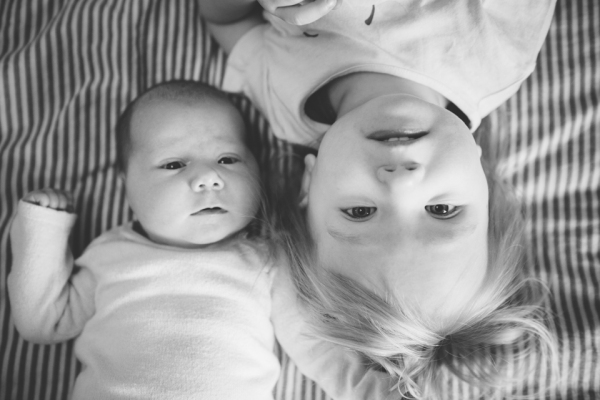 The profoundly beautiful birth photography thanks to the incredible Amy Oliver. Except the last which is mine.