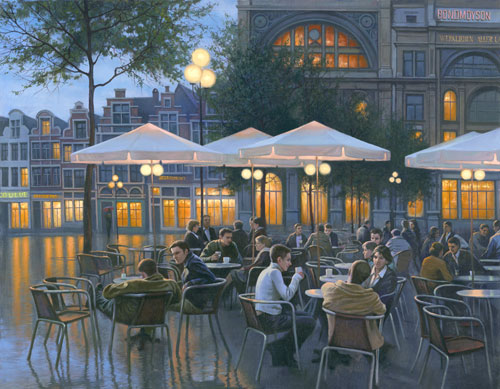 I put, 'Terrible Horrible No Good Very Bad Day' into the search bar on my own blog to find the last time I'd used the term and it took me back to some post in 2005. What a difference in how I used to blog! I was so non disclosing and gave such weak illusions to what was going on.
To risk being labeled a whinger… you know, all these posts about 'Woe is me', let me tell you about my morning.
It was another treck into the uni to see if I could get any subject exemptions for having scooted across from one degree to another. I got on the train and ten or so minutes in realised that I left my folio at home. This realisation gave way to a flat feeling of suppressed panic/resignation. I rendered myself incapable of willingly turning around by calling Geoff who told me to 'go in regardless'. Smart move.
The train pulled in at a station further on and stopped, we sat and sat and finally were told that we were waiting on an ambulance for, 'an ill passenger'. No big drama, I was thinking appropriately, "Well, that's a much bigger problem for them than for my delay". Yet we sat there for a long time.
I called Geoff again asking for the Design Faculty phone number which he found for me. I then went to call them to let them know that I would be late and discovered that I couldn't. No credit.
At Richmond Station I ran up to the platform – I'd missed the 10am train, just. Deciding that I'd do the right thing I went to an ATM and bought a phone voucher. Back up to the platform and I called the uni – no answer. Suddenly I hear a surreal, "Rebecca ___ if you are at the Station can you please come to the booking office". I flipped out momentarily as they said my last name correctly. An internal reaction would've looked something like you would if a dark voice came from the sky, "Rebecca welcome to this sucky day… guess what we have for you next!"
So I run back down the platform, out the ticket barricades again and presented myself where I was told to go. It turns out that I left my bank card in the ATM, some kind person returned it.
Back to the platform to call the Faculty whom I finally got on to. I was half an hour late. Without a folio. A classy reflection upon my organisation – perfect for getting subject exemption.
Anyway they were all rather nice and reasonably understanding, in fact one of the guys introduced me as, "…Rebecca, she's having a bad day" – with hardly knowing any extra information.
I talked my way (with the aid of some nice results) into getting one the subjects off. This does need to be re-assessed later before the semester ends to clarify whether I have the same level of skill by looking at my folio. Fortunately it is a new subject and can be taken pretty well whenever – so if back up is necessary there is no massive drama. If all goes well – and it should, I will save myself $889 in HECS.
So that was my morning. The whole not knowing if my car is going to cost me a bucket was of course playing dominoes with my head amongst the other crappyness.
Here's (at the very least) to a positive outcome!