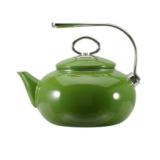 This afternoon I mention to mum that perhaps I should do a bit of an op-shop/other-shop crawl to get a few more things for moving out. So we did. It yielded some very positive results namely (of which I am most pleased) a pyrex casserole dish thing which – when you are restricted to a very small convection oven is pretty much what you need. Did I mention it cost me $2, and the lid becomes it's own dish?!
A little pathetic, but homewares do kind of float my boat.
After talking about getting cheap kitchen stuff a couple of nights ago. My mum chimes in with her never ending knowledge of all things shopping, that if you really need to, you can get your basic toaster/kettle/sandwich-press for about $10 at say… Aldi, The Warehouse even Big W or K-Mart. Despite the fact that I do already have such things (inheriting ancient white-goods is after all the cheapest means) the comment my Dad made regarding sweat shops directly after Mum's low-cost bombshell has left me… I'd say sweating, but that's too corny – a fraction disturbed.
As much as you can skimp, borrow, glean from op-shops and Grandparents there are some things you wind up buying – or even needing to buy new. I really don't advocate spending money buying really old tea-towels.
There is an almighty problem when you start to think about environmental/social-awareness issues because it elaborates in to one almighty ball of fire, an appealing one but realistically ugly and enormous. This becomes particularly difficult thinking about it all from the experience of being on a low budget. I am a uni student, moving out of home for the first time and someone who only very recently got their job back, in fact I haven't even started working yet- my budget is low. Quite low.
Getting home I jump back on trusty Google and attempt to yield some kind of brilliant search where I can get something that isn't going to leave me wishing I'd waited until I were a millionaire to move out.
To be fair the results were pretty dry.
I did manage to come across Green Pages Australia, and it's nice to know something of the kind is out there but that doesn't do a whole lot of good for the monetary constrained student who wants a in-state means to get those practical things that'll leave her with a cleaner conscience.
Am I overthinking this? Can I justify ignoring it? Is it something you can even easily deal with on a slightly weightier budget? Can I compromise on some things if I only worry about a few? What is a realistic way to manage ethical concerns?
As a side note I started discovering things about 'green' graphic design… a whole field of soon-to-be reality I need to explore.