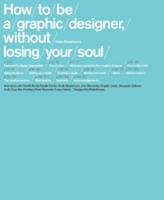 "The biggest problem designers face is fear; fear of clients, fear of failure, fear of ideas. Our ability to overcome fear is perhaps the greatest skill we can acquire. Most bad design, most mediocre design, is a consequence of fear. Clients are frightened, designers are frightened; audiences are frightened. The modern world of commerce runs of fear: a marketplace terror that makes us timid and risk-averse. Most of us deal with fear by falling back on the familiar and the safe. but if we do this, we are not allowed to turn around and say our lives are dull. If we are going to avoid losing our souls, we have to overcome this fear." – Adrian Shaughnessy (p.147)
I finally managed to get my hands on a library copy of this book and am already eternally grateful. Shaugnessy has written a brilliant book that talks about the Design industry through it's pitfalls and triumphs, it is gloriously practical, interesting and well written. I am a fan.
This takes the shiny button for the 'best' of design books that I've read thus far, just ahead of tellmewhy by karlssonwilker. Very different, incredibly helpful. I even feel vaguely prepared, although I'm sure that's naive.
On another note, I've been exploring illustration lately… in that I've been thinking about it rather a lot and am getting these small hits of inspired glee. I bought a CAP magazine on Illustration a little while back but I'm holding out until holidays, where those things that I "have" to do aren't getting in the way.
My branding assignment for the school is FINALLY coming along. I need to meet up with them again to discuss through some of the concepts that I've come up with. Still battling to get a decent linear mark as the uni brief requries that we produce: a linear, solid, abstraction, postive/negative, pictogram.